In this time of need, Long & Foster agents know how important it is to stay connected, healthy, safe and supportive.  That's why, our agents are not only helping their clients, they are giving back to their communities in generous and meaningful ways during this unprecedented time.
From donating masks and delivering food for medical teams to buying ice cream for the whole town, here's a look at some of the incredible acts of kindness our agents are doing to help their communities.
Nikunj Shah & Tulsi Shah of the Cherry Hill/Haddonfield, New Jersey office.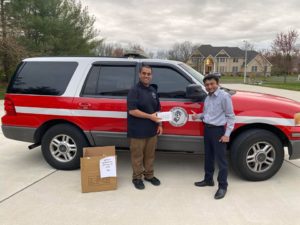 Suzann Ruggerio Arms, Greenville, Delaware office.
Surprised six families by having dinner delivered to their door from six locally owned restaurants. Photos of the family's reactions sent from the delivery drivers were priceless and most recipients pledged to pay it forward.

Darlene Brent and the Brent & Leabough Team, Village of Midlothian, Virginia office.
Paid for teens to take a Financial Freedom online class.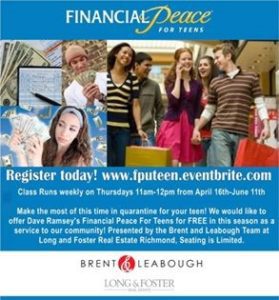 Chris Koons-Byrne , Potomac Village, Maryland office.
The Potomac office donated lunch to the nurses at Suburban Hospital from Gregorio's Trattoria restaurant in Potomac.
Koons-Byrne has been buying meals at local restaurants, supporting her fitness instructors via virtual paid donation classes and sending a check to her cleaning person every two weeks when she is scheduled. She's also helped her neighbors place signs throughout the community to show their appreciation to frontline and delivery heroes.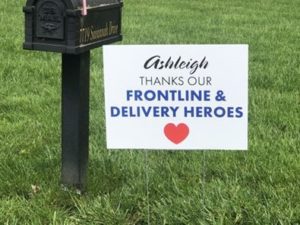 Debbie Savoie, Annapolis, MD Eastport office.
Opened a $500 tab for five days for the first responders and health care workers for curbside or carry out at Momma Mia Italian Bistro & Sports Bar.
Brinlin Maki and the Treehouse Realty team in the Village of Midlothian, Virginia office.
Faith Greenwood, Stony Point office, Bon Air, Virginia.
Made meals for the homeless shelter and donated items to local food banks.
Tom Coard and the team in the Bel Air Central office in Bel Air, Maryland.
Raised funds from agents, employees and members of the community via a GoFundMe page to provide a meal to over 750 medical staff at Upper Chesapeake Medical Center in Bel Air and Harford Memorial Hospital in Havre de Grace.
Mia Burch, Greenville, Delaware office.
Made sandwiches for Ministry of Caring to feed those affected by COVID-19 and their families.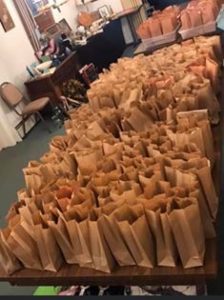 Lisa Mccloud-Wilberger, Oceanfront office, Virginia Beach.
Interviewed local business owners and created live videos on Facebook page, Virginia Beach Lovers to let the community know which businesses are open, creating much needed support for struggling businesses.
Cindy Souza, Bethesda Gateway office.
Team members have been making food donations to Sibley Memorial and Suburban Hospitals.
Sharon McCraney, College Park, Maryland office.
Dropped off 30 sets of mini lights for neighbors and clients to put in their front windows and included a note to light at night to show solidarity to shelter in place.
Suzan Smith, Fonville Morisey/Lochmere Sales office, Cary, North Carolina.
Created and delivered more than 500 face shields to health care workers.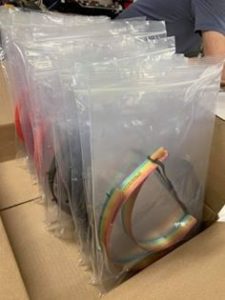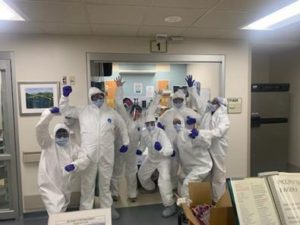 Kelly Cobb, Fonville Morisey/The Kelly Cobb Home Team, Cary, North Carolina.
Provided a $500 credit at a local eatery and invited local health care workers and first responders to have a complimentary take-out lunch or dinner.
Kim Letschin, Bel Air, Maryland office.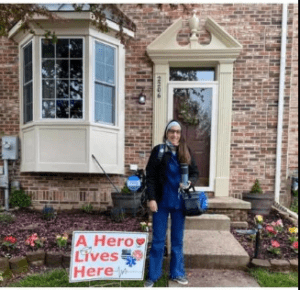 Kathleen Kellett-Ward, KK Homes, Staunton/Waynesboro, Virginia office.
Created a restaurant carryout bingo game called ValleyStrong Takeout. Order a meal from five local restaurants featured on the team's website bingo board and provide receipts to be entered into a weekly drawing for $100 worth of local business gift cards.
Mary Beth Eisenhard, Gainesville, Virginia office.
Weekly client dinner giveaways to local restaurants and provide a large tip to the restaurant.
Donated 2000 nitrile gloves to a respiratory therapist client who works at Prince William Hospital.
Purchased $25 from a local hair salon for clients to purchase products once the salon opens their doors for business.
Delivering 75 vases of floral arrangements for Mother's Day to help support a local flower shop.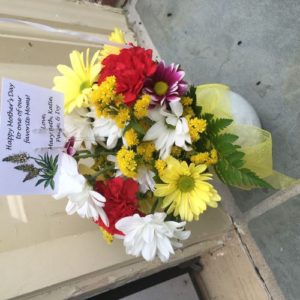 Meghan Oliver Clarkson, Eastern Shore VA-Chincoteague/N. Accomack County office.
Bought a gift card to the local ice cream drive-thru store and invited the town via Facebook Live to have ice cream to lighten their moods.
Donated funds to a group of ladies who made masks for health care workers and to her church to help feed those in need.
Collaborated with the generosity of a client, to provide four clients in need with $200 in an unsigned note card in their doors for groceries.
Dottie Wells, manager of the Bethany office and Anne Vogel Flaherty, senior mortgage consultant,  Prosperity Home Mortgage, Bethany.
Collected donations totaling $3250 from agents and mortgage consultants in the Bethany, Lewes and Rehoboth offices. With the funds, they purchased 130 gift cards from local restaurants and presented them to the Beebe Medical Foundation, the philanthropic arm of Beebe Healthcare.  Located in Lewes, Delaware, the Beebe Medical Foundation raises funds through generous community support for the Beebe Healthcare.  The gift cards were distributed to the employees and first responders at the health care facility.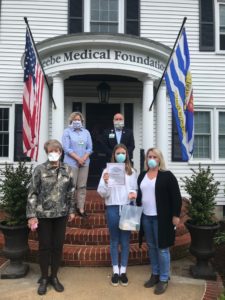 Are you doing something to support your clients or community during the pandemic?  If so, add a comment here and tell us all about it.