In the Covid-19 world we are currently living and working in, social distancing is becoming a way of life in order to limit the spread of the disease. An easy way to maintain social distancing while continuing to conduct business is leveraging video conferencing technology.
Zoom is one of the more popular tools being deployed. Businesses use it. Families use it. Teachers even use it to conduct classes with their students. While Zoom is easily accessible and easy to use on a computer, tablet or smartphone, it can be exploited by individuals meaning to do harm. To help protect you when you're doing business online, we wanted to provide you with the latest guidelines to follow when having a meeting on Zoom.
Download the Latest Version of the Software
Zoom is constantly working to minimize any gaps in the security and to decrease the chances of any incidents. As a user, you should ensure you have the latest version of the software on your computer. You can find instructions on how to verify if you have the latest version and how to update, if needed, at https://support.zoom.us/hc/en-us/articles/201362233-Where-Do-I-Download-The-Latest-Version-.
Scheduling Meetings
After you access the Zoom application, you will be presented with a screen similar to below.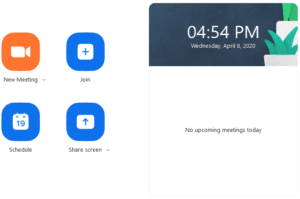 When you're scheduling meetings on Zoom, make sure to use these settings to help ensure your security.
Enable a "Co-host" in your meetings. This one-time setting will allow you, as the host, to focus on the meeting, while another participant acts as "co-host" to perform administrative functions within the meeting. You can learn how to do so at https://support.zoom.us/hc/en-us/articles/206330935-Enabling-and-adding-a-co-host
If you plan on sharing your screen, we recommend that you set the tool to allow only you to share your screen and prohibit others from sharing theirs. Like the Co-Host setting, this only needs to be selected once and is located below the Co-Host setting.
When scheduling a meeting, we highly recommend that you use Zoom to provide the meeting ID. You do not want to create a meeting ID that's reused, as it's less secure.
Set a password for your meetings.
Establish a waiting room for your meeting, which will prevent individuals from entering the meeting until you join it and allow them into it.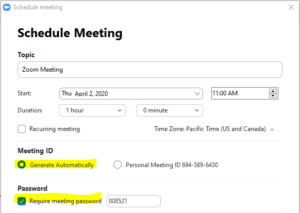 During Your Meetings
Once your meeting begins, you will need to focus on the meeting itself. This is when it becomes beneficial to have a "co-host" to help control the meeting in case an unwanted participant joins. Here is what you (or your co-host) will need to monitor.
Removing attendees. Even with all the precautions recommended above, there is a chance that someone joins the meeting who shouldn't be a participant. The host and co-host can manage the participants in the meetings and by selecting the name of the person, you can remove them—simply select "More," "Remove" and then "OK."
Manage noise. The host and co-host can also manage any audible noises on the call and can take on the role of muting and unmuting of individuals as well. They can also "Lock" the meeting once all participants have joined to prevent anyone else from entering the meeting.
Joining Video Meetings Hosted by Someone Else
Sometimes you will be joining an externally hosted meeting (one that you are not scheduling or hosting). When you're participating in these types of meetings, keep these things in mind.
If someone is sharing their screen or there is a link shared within the meeting, be cognizant of this and avoid clicking on these links. Use the same thought process as you would with an email you receive from an unknown or unrecognized source.
Avoid discussing internal corporate issues or sensitive topics. When on a call, please remember that you are representing not only yourself, but also Long & Foster.
Please always understand the risk of being exposed to inappropriate images or content during a video meeting hosted by an external party.
Long & Foster's Professional Development team is hosting regular training via Zoom by the Success Path team, and we recommend you join these training sessions as well should you require assistance.
Important Note: Please check with your local jurisdictions to ensure that you can use Zoom and other video conferencing applications to do your business. You will want to make sure you are following the requirements of your local market.