In recent weeks, all of us have been faced with the challenges that come with Covid-19. This pandemic has brought fear upon our society as a whole and disruption to our economy. Real estate agents are among the most vulnerable to an economic downturn as independent contractors yet, at the same time, are in one of the most influential positions to lead our country into a speedy economic recovery.
Many of our agents have chosen to lead with trust, family and excellence by focusing on the following three aspects of their business.
1. They learned to put the oxygen mask on themselves before attempting to help others. Above all else, stay safe and follow CDC guidelines! Maintain your health and wellness by getting plenty of good rest, eating whole unprocessed foods, including proteins, vegetables and fruit (avoid sugar and other processed foods), and properly hydrating.
Stress is at an all-time high, but it can be mitigated with practices such as turning off the news and social media, getting 30 minutes of exercise a day, starting a meditation or yoga practice, getting out into nature, spiritual reading, having nice (virtual) chats with people who you love and support you. It's also a good time to reach out for tele-support with friends and/or professionals, if additional help is needed. The key thing to remember is that this will pass!
2. They have looked at the new forecast and have adjusted their business plan. Industry experts are evaluating past pandemics to help forecast what this pandemic will do to our overall market. Many are predicting a V curve. This is when there is a sudden, steep drop in transactions, it hits a bottom, and then we experience a quick steep rise.
Below is a look at the Chinese economy as it was affected by the 2003 SARS pandemic.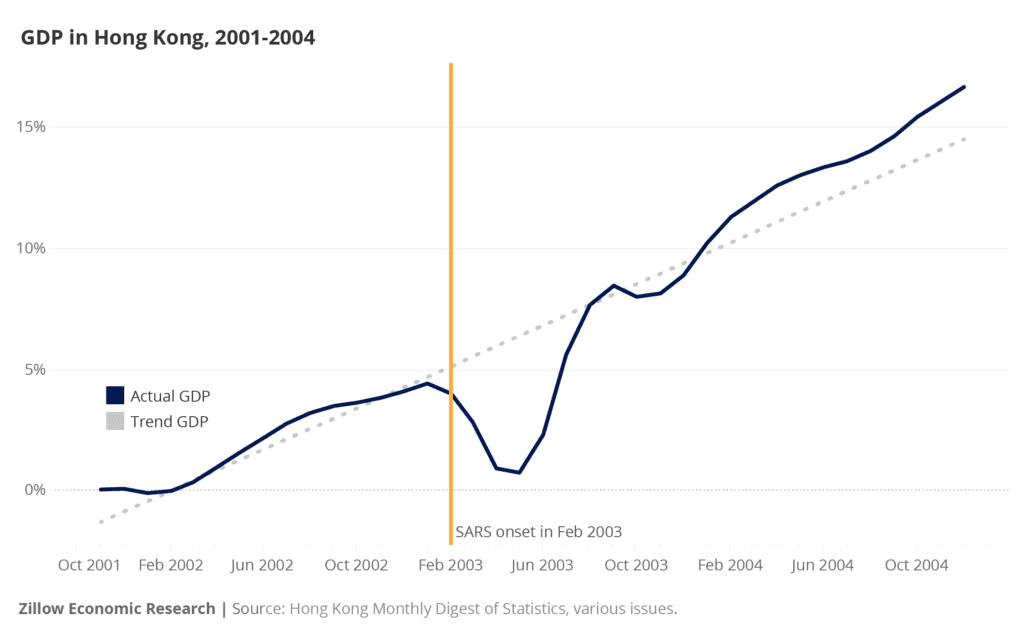 Overall experts are estimating that the market will be down by 15% from their predictions in 2020.Here are the three questions top agents are using to adjust their plan:
– If this forecast holds true, how will that affect my bottom-line?
– Are there opportunities to delay some spending and hold onto some of the cash my business needs?
– How can we gain market share quickly when the market begins its steep incline of growth?
3. The third thing top agents are doing is in direct response to the last question above. The way to gain market share when sales begin to rapidly increase is to gain mindshare now. Gaining mindshare now involves a little different approach. You need to be communicating with your clients even more. You need to show more empathy in your communications, listen more and offer to serve.
This is consistent advice from top agents throughout our footprint. We need to check in. Regardless of our own opinions, we need to respect the fact that others are entitled to theirs. Can you listen to a possible client vent from a point of view opposite of yours, without judgment or conflict? The simple art of empathy and the skill of listening will go a long way toward gaining and maintaining mindshare.
Find opportunities to serve versus opportunities to sell. It is amazing how focusing on service to communities and people reveals many more opportunities to sell in times like these.
Learn more
Tap into our culture of trust, family, and excellence by joining our online trainings and panel events. To learn more, visit the Success Path tab on the Café or on Foster.