HomeServices of America Ranks as the Country's No. 1 Real Estate Firm
In March, HomeServices of America, the parent company of Long & Foster and a Berkshire Hathaway affiliate, earned the title of the country's largest residential real estate company based on transaction sides, according to the REAL Trends 500 report. In 2018, the company's sales associates closed 346,629 residential transactions, reflecting a 5.6 percent increase over 2017.
Headquartered in Minneapolis, HomeServices has nearly 44,000 real estate professionals operating in nearly 900 offices across 30 states and the District of Columbia. In 2018, the company's sales associates facilitated nearly $136 billion in residential real estate sales, nearly 347,000 home-sale transactions and nearly 323,000 mortgage, insurance, title and escrow transactions.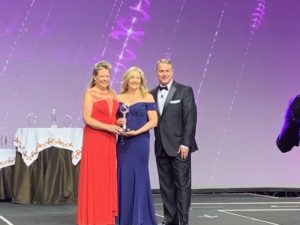 Corporate Real Estate Services Division Honored at LeadingRE Conference in Las Vegas
Long & Foster's Corporate Real Estate Services Division (CRES) division recently received a number of Member Achievement Awards from Leading Real Estate Companies of the World (LeadingRE), a global network of more than 565 top real estate firms. The awards were presented at the network's Annual Performance Awards Gala, held during the LeadingRE Conference Week, a series of events held at the Wynn Las Vegas earlier this year that attracted a global audience of nearly 3,000 real estate professionals from 24 countries.
Longandfoster.com Nominated for Website Quality Certification Award
Long & Foster was nominated for a Website Quality Certification (WQC) Award from Leading Real Estate Companies of the World (LeadingRE. The WQC recognizes LeadingRE member websites that demonstrate best practices in a variety of critical areas relating to website performance, including usability, design, content, interactivity, customer service and mobile responsiveness.
Nominees were selected by a panel of independent judges in recognition of superior performance in eight different categories. Long & Foster was nominated for two of the categories—Best Interactivity and Best Mobile Site.
Long & Foster Recognizes Team Members for Excellence
Foster Cup Award Presented to Dawn Bradley and Brian Haug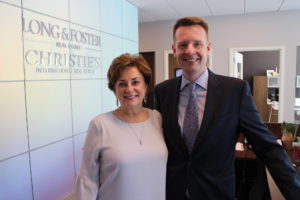 Dawn Bradley, vice president and branch manager of the Grove office in Richmond, recently was honored with the 2018 Foster Cup Award. The Foster Cup Award acknowledges those who achieve excellence in real estate.
Under Bradley's leadership, the Grove office has consistently been a leader in the local market and ranked among the company's top offices. Bradley also received the Foster Cup for 2013, which was the inaugural year for the coveted award.
Brian Haug, senior vice president and regional manager for the Richmond, Southwest Virginia and Hampton Roads regions of Long & Foster, received the Foster Cup Award at the regional leadership level. Haug manages nearly 45 offices and more than 1,300 agents throughout Southern Virginia.
 Carmin Brittain, Mary Eckert Named Foster Family Award Winners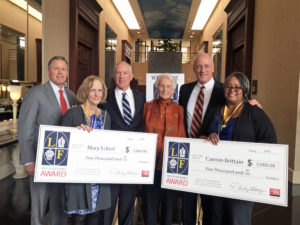 The Long & Foster Companies recognized Carmin Brittain and Mary Eckert with its annual Foster Family Awards, which honor those employees who demonstrate exceptional service in all their work. Brittain is the director of Long & Foster's Rental Service Center and works in the company's Chantilly headquarters, and Eckert serves as an office administrator at the Reston, Virginia, sales office.
They were among the over 90 employees who were nominated for the Foster Family Awards this year. You can view the full list of nominees here.
Long & Foster Joins Forces with Champion Realty
Long & Foster Real Estate and Champion Realty have joined forces, creating the dominant real estate brokerage in Anne Arundel County and the Eastern Shore of Maryland.* Champion is a residential real estate brokerage that, like Long & Foster, is part of HomeServices of America, a Berkshire Hathaway affiliate.
Champion was led by Jon Coile, a real estate professional with over 30 years of experience, who grew the company into a seven-office brokerage with about 200 associates. The Champion team now operates under the Long & Foster brand.  With the merger, Coile joined Long & Foster's leadership team, taking on the role of senior vice president of regional development for the Baltimore, Eastern Shore and Western Maryland region.
* Market position is based on data for Anne Arundel, Caroline, Dorchester, Queen Anne's and Talbot counties, supplied by BRIGHT MLS and its member Association(s) of REALTORS, who are not responsible for its accuracy. Does not reflect all activity in the marketplace. Jan. 1, 2018 — Dec. 31, 2018, as of Jan. 11, 2019.