Long & Foster will celebrate its 50th anniversary throughout the year, highlighting the company's real estate expertise in print advertisements, social media posts and more. Here are six ways you can take part in the celebration as Long & Foster agents and employees.
1. Use the special 50th anniversary logos on your marketing materials, social media pages and email signature. Multiple sizes and file types are available on the Long & Foster Cafe (Keyword: 50th).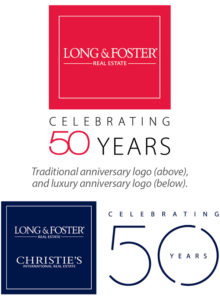 2. Update the cover image on your Facebook business page with one that commemorates the 50th anniversary. A number of options are available on the Cafe and feature the new traditional Long & Foster logo alongside the 50th anniversary logo.
3. Use our 50th anniversary profile frame on Facebook—simply go to your profile, click Edit on your user photo and then select Add Frame. Type "Long & Foster" into the search bar and choose the Long & Foster's 50th Anniversary frame. From there, you'll be able to preview the frame on your photo and click Use to apply the frame. See what it looks like by clicking here.
4. Follow Long & Foster on Facebook and Twitter to see weekly 50th anniversary content that you can share, including videos, images and moving gifs. See an example by clicking here.
5. Share special blog posts and content about the 50th anniversary from the Long & Foster Newsroom. You can see one of the first blog posts, featuring long-time Long & Foster agents Roger and Jane Applegate and Carol Welsh, by clicking here.
6. Keep an eye out for announcements and emails regarding special 50th anniversary projects, including fun surveys, studies, press releases and additional surprises.
The official 50th anniversary is May 22, and we hope you take part in celebrating the accomplishments of Long & Foster as we pay tribute to the company's legacy while looking toward the future.