Your mutual clients will now receive co-branded emails after they close on their loan
Our partners at Prosperity Home Mortgage are introducing a quarterly email campaign, providing an easy and automated way to keep in touch with your mutual clients after they close on their loan. Each email is co-branded, featuring you and your mortgage consultant with your headshot image and contact information, putting your name and face in front of former customers.
What type of emails will my clients receive?
Your clients will receive the following emails.
Congratulations on Closing!
Checking In
Questions About Your New Home?
How's the Neighborhood?
Every time your mutual client receives an email from Prosperity Home Mortgage, you will receive a notification email.
In addition, Prosperity Home Mortgage will send you a birthday reminder for each of your mutual clients.This is a great opportunity to reach out to your clients and wish them a happy birthday – just another easy way to stay in touch with your sphere.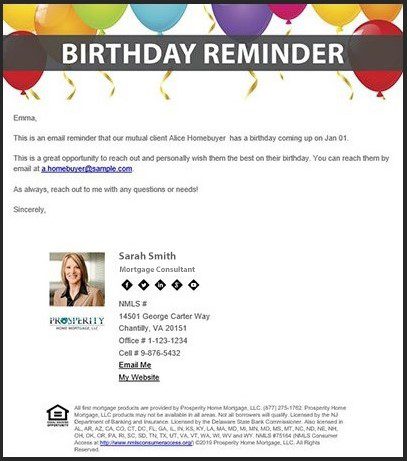 Please note: This is a multi-year campaign with future market relevant content to be determined.
If you have questions, please contact Prosperity Home Mortgage at customer.support@phmloans.com.